Mid Term break is just around the corner and the Ring of Cork is full of exciting things to do this Spooktacular Halloween break. Whether you're looking for some scary activities to try with friends or searching for some fun Halloween fun with the kids, there is plenty on offer along the Ring of Cork. In this blog post, we are going to share with you some of our favourite spooky activities to try this Halloween break. You are guaranteed to gather some spooky tips and tricks.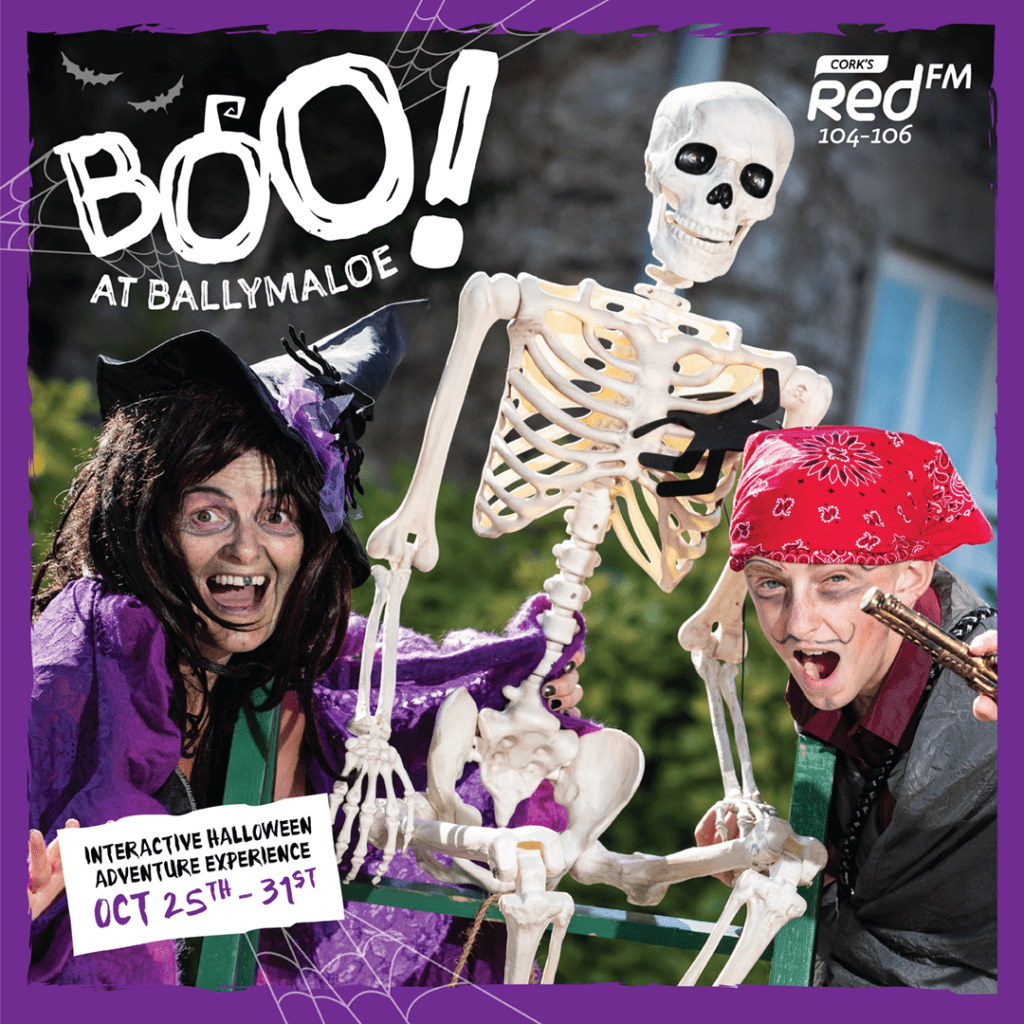 At Ballymaloe's BOO, you can follow the theatrical trail full of spooky characters and magic spells. This spooky activity is an interactive experience which will allow you to meet some exciting characters throughout the trail full of spells. It is suitable for both younger and older kids. BOO takes place in Ballymaloe from the 25th to the 31st of October between 10am to 5pm. The earlier shows between 10am to 1pm are aimed at the young kids and after 2pm, the lights go down and the scare levels rise for the full experience. The full Halloween experience will tell a story as you move through the interactive experience, meet characters, solve puzzles and much more. Book your tickets here.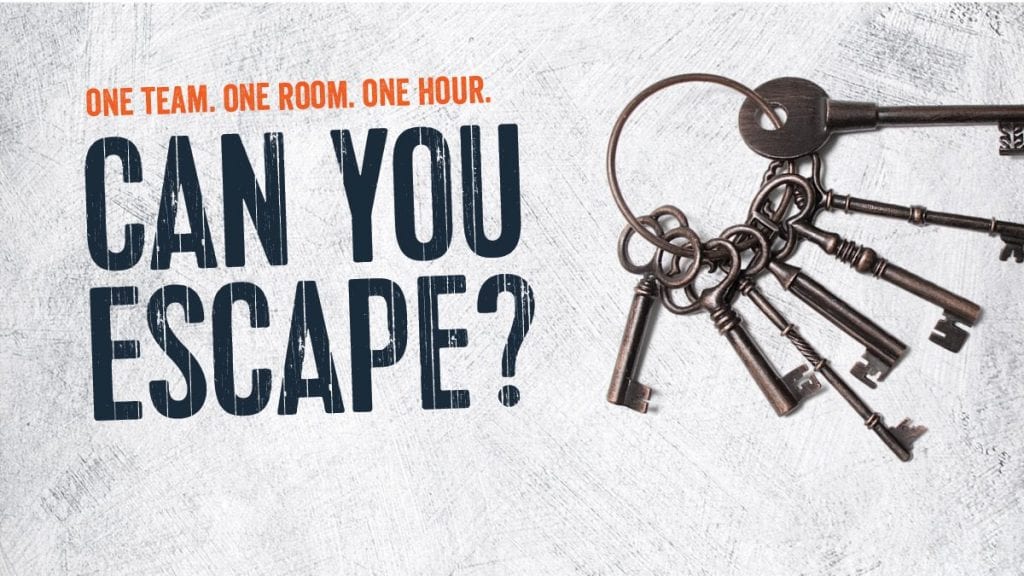 If you are looking for a unique activity to get the fear and adrenaline pumping this spooky holiday, be sure to try the Escapade Cobh. These escape rooms are a great activity for a group of friends to work together to solve a puzzle and escape the room before the time is up. There are lots of different rooms you can try, from "Escape from Spike Island", "Late Night Bank Heist" or you can even help "Sherlock Holmes" to solve his final case. It is the perfect activity to try this Halloween with friends. For more details check out their website here.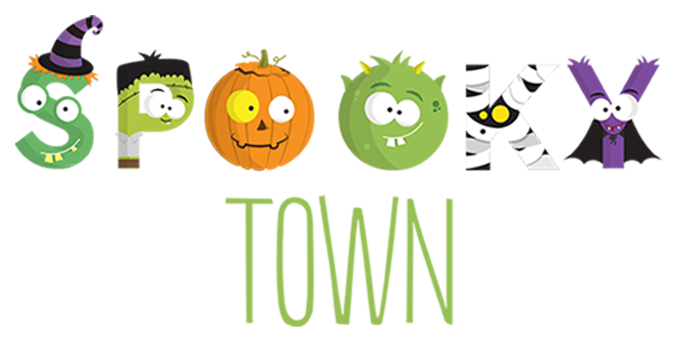 If you are looking for a fun family day out, the Spooky Town at Fota Island Resort is exactly what you are looking for this midterm break. Located in the spooky woodlands at Fota Island Resort, you wander through the spooky town to find all creatures along the way. Get into the scary Halloween spirit as you make your way through the forest full of graveyards, witches, pumpkins, ghosts and much more. Spooky Town is open from Friday the 25th of October to Friday the 1st of November and is ready to give you a spooktacular experience. Book your tickets here. (Link the 'here' with https://www.spookytown.ie/)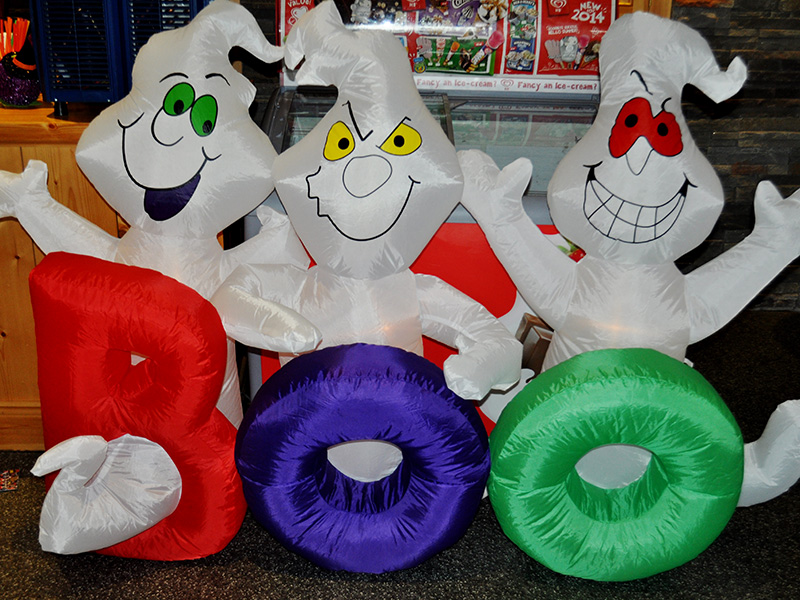 If you are looking to take the kids out for some Halloween fun this midterm break, why not check out Leahy's Open Farm as it hosts BOO. Experience the haunted hay rides, explore the witches forest, hear the scary stories and have lots of fun with Halloween games. Be careful the witch doesn't put a magic spell on you! If you want to add even more excitement to the day, you can book for chocolate lollipop making or pumpkin carving fun. This event is taking place on Saturday the 19th of October, Sunday the 20th of October and from the 26th of October until the 1st of November between the time of 11am – 4pm. Book your tickets here.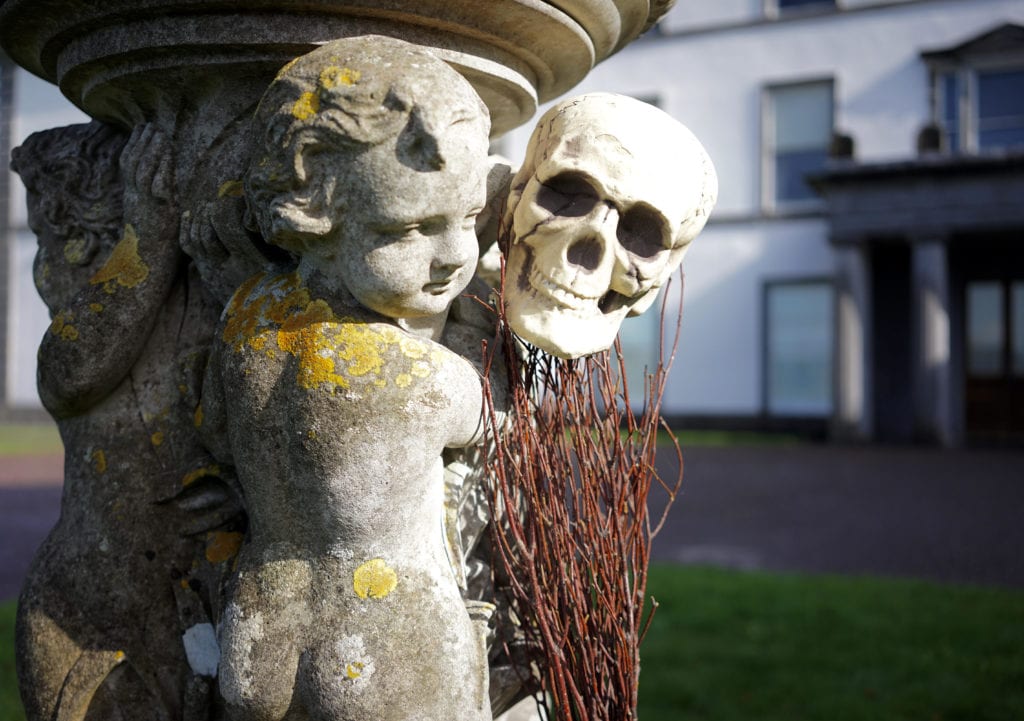 Nothing beats getting out in the fresh air during the midterm break and we have the perfect place to do this. Be sure to go and check out the self-guided Halloween Ramble around Fota Arboretum and Victorian Working Garden. Why not pop on your Halloween costume and explore this daytime adventure. Follow the trail to the end and pick up a little treat back at the house. This spooky trail runs from Saturday the 26th to Monday the 28th of October and also on Halloween, Thursday the 31st of October. For all the information, you can check it out here.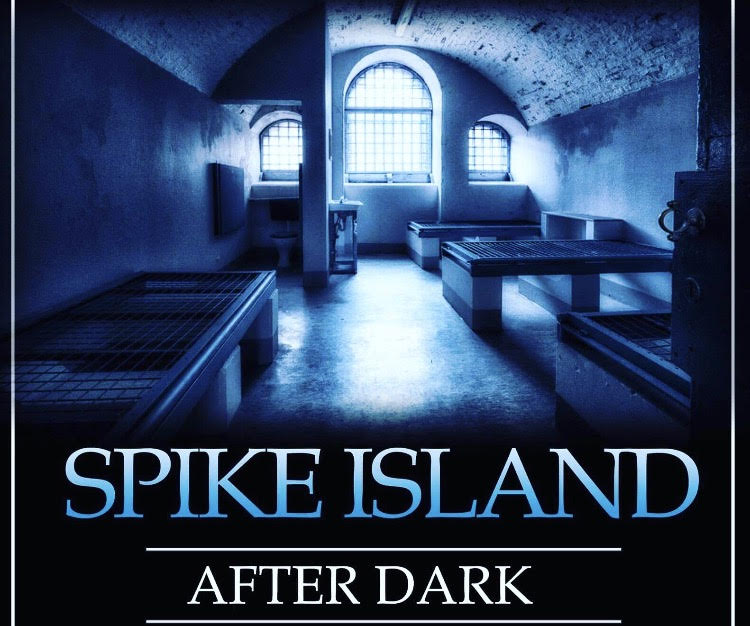 If you are really looking for a scare, this experience is for you. Spike Island After Dark wont fail to get your heart racing and put chills down your spine. Walk the abandoned prison at dark, sit in a solitary cell and experience this prison island and all its secrets at night. Learn about the frightening history which isn't for the weak hearted. Are you brave enough to experience the haunted island after dark this Halloween? Be sure to book your tickets if you dare here.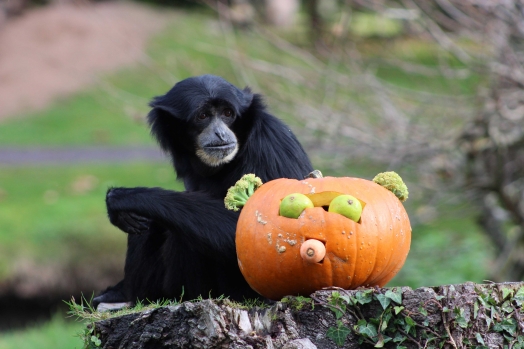 Fota Wildlife Park is always fun but it is even more fun when there are lots of Halloween events taking place. Go and explore the park with all it's wonderful animals and enjoy the extra Halloween treats around the park. From the 28th of October to the 3rd of November, the park will be full of extra events from spooky arts & crafts, fearsome face painting and animals of Halloween exhibitions. You can check out all the details of the events here.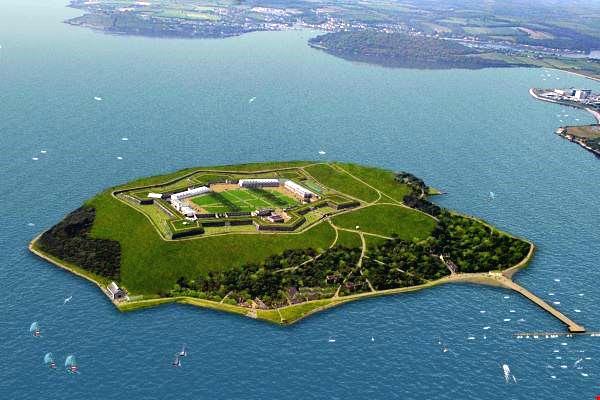 If Spike Island After Dark is a little too scary for you, a day time tour might be more a little easier on the heart! In the last 1300 years Spike Island, has been host to a 6th century Monastery, a 24 acre Fortress, the largest convict depot in the world in Victorian times and centuries of island homes. The island's rich history has included monks and monasteries, rioters and redcoats, captains and convicts and sinners and saints. Today the island is dominated by the 200 year old Fort Mitchel which became a prison holding over 2300 prisoners. Take a tour and learn about the history of Spike Island. For more information check out their website here.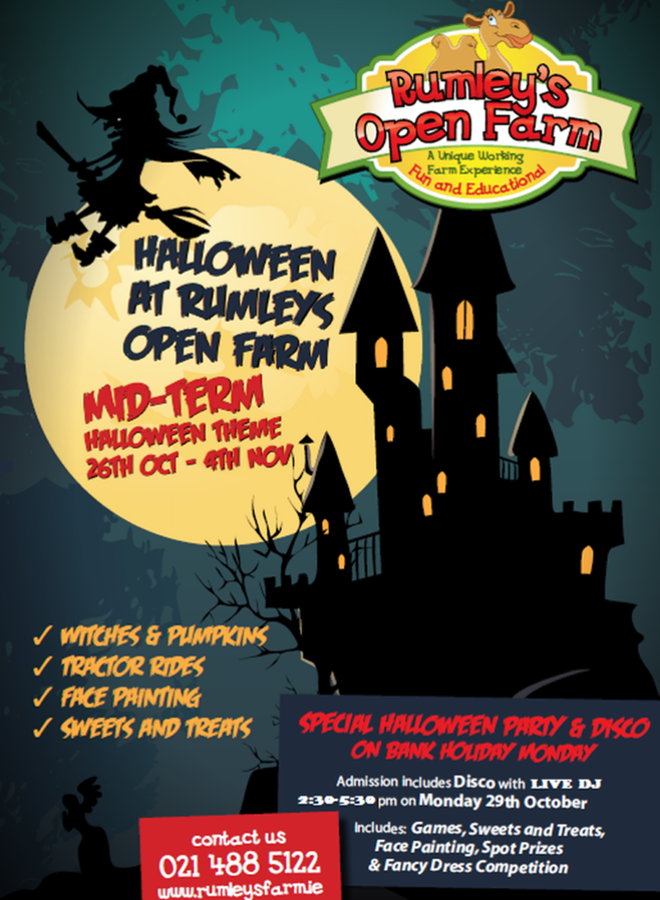 Another great family day out this Halloween is at Rumley's Open Farm. A Halloween theme will take over the farm from the 26th of October to the 4th of November. Explore the farm and discover the witches, pumpkins, tractor rides, face painting and enjoy lots of spooky treats. On Monday the 29th of October, you can enjoy a disco between 2:30pm – 5:30pm with a live DJ. The disco will include games, sweets, spot prizes, fancy dress competition, face painting and much more. For more information check out their website here.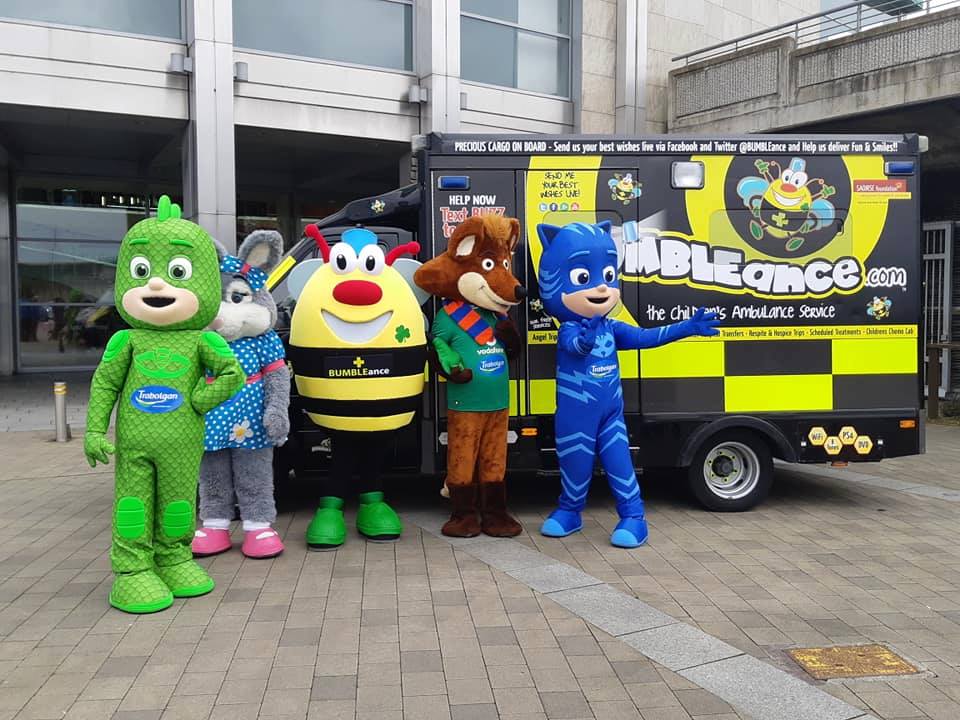 Trabolgan is always full of fun and excitement and this Halloween they have added lots of additional Halloween activities to their schedule. In addition to their normal activities such as swimming, crazy golf, go karting, zip lining and much more, you can enjoy lots of additional fun over the Halloween break. Some of the Halloween schedule includes spooky Halloween trails, spooky mansions Halloween show, catch the witch games, fancy dress, Biddidy Bobbidy Boo at the plaza, pop goes the pumpkin, poison apple making, superhero spooktacular, family pumpkin parties and much more. Book in for a few nights at Trabolgan or even visit with a day pass. For all the information, check out their website here.
The post Our Top Halloween Experiences appeared first on Ring of Cork.