20apr7:00 pmDon Baker and Clara Rose In Concert7:00 pm GMT Festival Category:The ArtsPrice: €20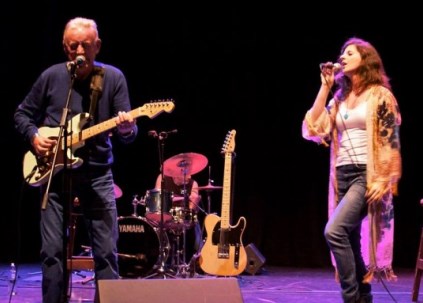 Event Details
The return of Don Baker with Clara Rose to the Mall Arts Centre, Youghal.  Just recently finished a stint on Fair City the versatile actor and singer Don Baker has been touring with Clara Rose and working in the studio, recording a joint album.
Don and Clara performed together on Don Baker's 2013 album. "Normally I put a lot of thought into planning my albums, but "My Songs, My Friends" took on a life of its own, as if some spiritual force was guiding me through it. It actually started after I accidentally met the superb singer Clara Rose in a music shop. Having been much taken by her solo album I invited her to record one of my songs with me.Studio engineer Stuart Gray was so impressed with the result that he suggested I invite others in to sing my songs. One by one they all agreed, and it became a tremendously uplifting experience for me. That such talented people would give so generously of their time was an experience I'll never forget".
Don has built a solid reputation as a singer, guitarist, harmonica player and songwriter. Many of his own compositions offer disarmingly honest reflections on aspects of his own life and personality, and he has openly spoken of his deeply spiritual approach to life and people. He has recorded several acclaimed albums including Almost Illegal, Born With the Blues, Duckin' & Divin', Miss You, No Regrets "Live in Concert", Just Don Baker, No Nonsense and Rain On The Wind. His DVD/video releases include Don Baker Live and Don Baker In Profile.
While Baker is already acknowledged as one of the top blues harmonica players in the world, another key feature of the 2013 album" My Songs, My Friends"  is the quality of his guitar playing and the range and depth of his songwriting. 'Politician', featuring John Spillane, castigates our politicians, while there's a suave gospel elegance to 'Lord Have Mercy', a duet by Eleanor McEvoy and Brian Kennedy. Sinead O'Connor is in vintage form on Baker's 'Cinderella', while 'Maureen', sung by Baker himself, is a touching love song a la Mark Knopfler.
Clara Rose has been writing and performing original music for 10 years with a voice that "soars and swoops with the ease of an opera star running through her scales"(Dubliner Magazine) With acoustic guitar in hand Clara has shared stages with Celtic legends such as Horslips, Henry McCullough, The Waterboys, Eleanor McEvoy , John Spillane, Jack L.
Don and Clara hope the new album which will be released early in 2016
Organizer

Mall Arts YoughalThe Mall, Youghal, Co. Cork